DIY Power for Astrophotography
June 16, 2019
The problem I want to solve is supplying 12v dc power to my astro setups away from mains/grid power, for example, a 110v ac line running from the house. I want enough storage to last a full night with everything--even the big power drains like thermo-electric cooling and dew control covered by the system. Of course there are off-the-shelf solutions for this, but I wanted a little more versatility, a system that I can upgrade, add more batteries if needed, and this is much cheaper than the portable power options out there. It's also specific to my needs: a handful of 12vdc devices, with varying current requirements. (I don't need a built-in flash light or an inverter to power AC devices--things that plug into a wall socket).
Here's what I've put together and successfully tested so far:
I bought a small deep-cycle 35 amp-hour lead-acid (AGM) battery, which will get me completely through a night of astro-imaging: through evening setup, an entire night's imaging run with a cooled camera (TEC set to -20C) and dew control running the whole time. In my first tests I discovered I would not go any smaller than the 35Ah @12v dc battery, because I ended the night with it pretty close to completely discharged. Keep in mind the charging cycle with AGMs is a gradual process that uses lower power. Absorbent Glass Mat batteries are safer to use, but require a slower, steadier charging cycle. 
Everything I purchased for my power box was perfect except I went underpowered on the charger. The NOCO chargers are awesome (https://no.co). I bought the NOCO Genius G1100 (1.1 amp) and I should have gone with with the G3500 (3.5 amp)--for $20 USD more. The G1100 will charge my NPP NP12-35Ah AGM battery from dead to full in 18 hours. Yeah, see the problem? That's not going to work with more than one clear night in a row. The G3500 will charge the battery in less than 6 hours.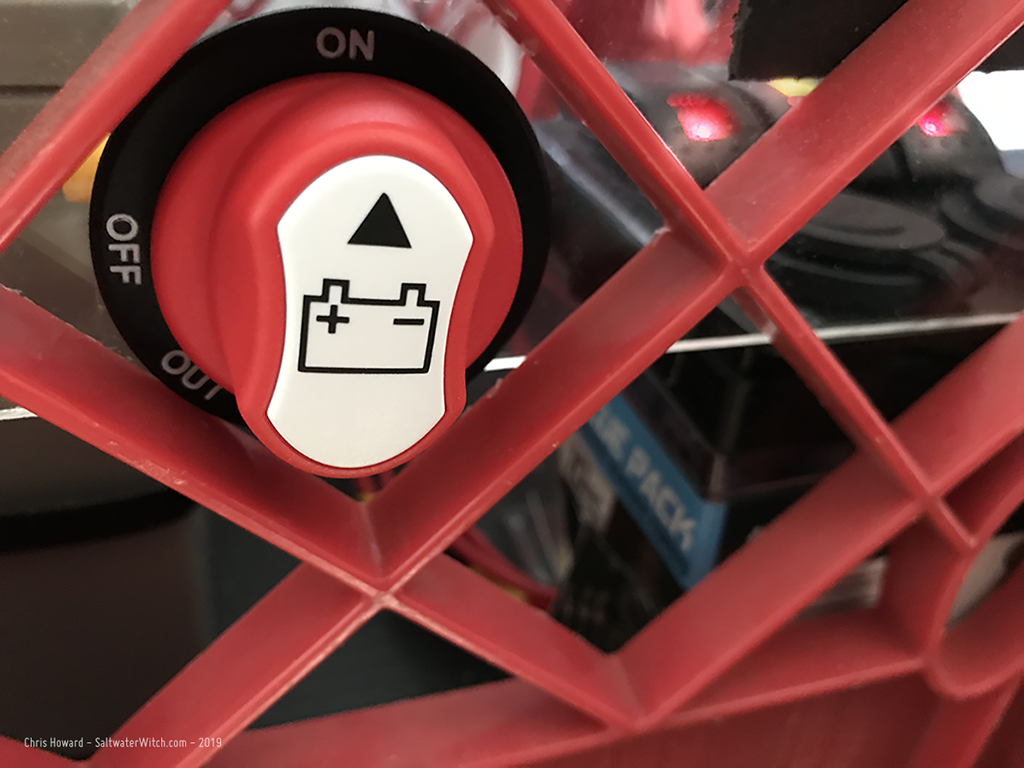 I have everything housed in an old milk crate--an original from the early '80s. But you can buy similar containers today--at Amazon, the Container Store. I attached two pieces of scrap acrylic to two sides. I have my Fanless Windows 10 box secured to one, and I drilled out the other side for my battery power cut-out. I added this so there was no draw on the battery--even minimal. The three switches on the rocker panel are lit when they have power, even when they're off. They have a small LED bar that shows that the switches are functioning, and a brighter red LED when they are powered on. The cut-out also allows me to completely separate the lines running to my gear from the NOCO charging line, if I want to.  
Tools: wire cutters, wire stripper, soldering iron + solder, and the crimping tool for the connectors (link below)
NOCO chargers https://no.co
NPP NP12-35Ah Rechargeable AGM Deep Cycle 12V 35Ah Battery with Button Style Terminals
https://www.amazon.com/gp/product/B01LW19AOE
Rocker Switch Panel 
https://www.amazon.com/gp/product/B075V4CZLF
NOCO GC018 12V Adapter Plug Socket with Eyelet Terminal
https://www.amazon.com/gp/product/B00G8WLW2Y
NOCO Genius G3500 6V/12V 3.5 Amp Battery Charger and Maintainer
https://www.amazon.com/gp/product/B004LWVEKS
Car Battery Switche MAX 50V DC 50A 
https://www.amazon.com/gp/product/B01GDYGQJA
Insulated Wire Electrical Connectors Assortment
https://www.amazon.com/dp/B078PMWNJC
Ratcheting Crimper Tool - for the connectors above
https://www.amazon.com/dp/B01IQIALJC
Primary Wire, 14-Gauge Bulk Spool, 100-Feet, Red & Black
https://www.amazon.com/dp/B016TQKT9K
3 x 6ft 2.1mm x 5.5mm Extension Cable, 18AWG for 12V
https://www.amazon.com/dp/B079P842DK
Power Pigtail Cables, 12V 5A Male and Female Connectors
https://www.amazon.com/dp/B07QH8VNY7