The Propeller in Cygnus
May 23, 2023
The "Propeller Nebula" in Cygnus (DWB 118). Imaging notes: 46 x 300-second exposures, 3nm Ha filter, ZWO ASI1600MM-Pro monochrome camera cooled to -10C, 800mm f/4 Newtonian scope, Sky-Watcher EQ6-R Pro mount, William Optics 32mm/120mm FL guide scope + ZWO ASI290MM-Mini guide camera. 
DWB 118 isn't usually called out separately from the vast nebula complex around Sadr, but 193 distinct HII regions are catalogued in the 1969 Ha survey of the Cygnus X Region. The "Propeller" is catalogued as number 118 by the authors, Dickel, Wendker, Bieritz (DWB)
Dickel, H. R., Wendker, H., & Bieritz, J. H. (1969). The Cygnus X region. V. catalogue and distances of optically visible H II regions. Astron. & Astrophys., 1, 270–280. https://articles.adsabs.harvard.edu/pdf/1969A%26A.....1..270D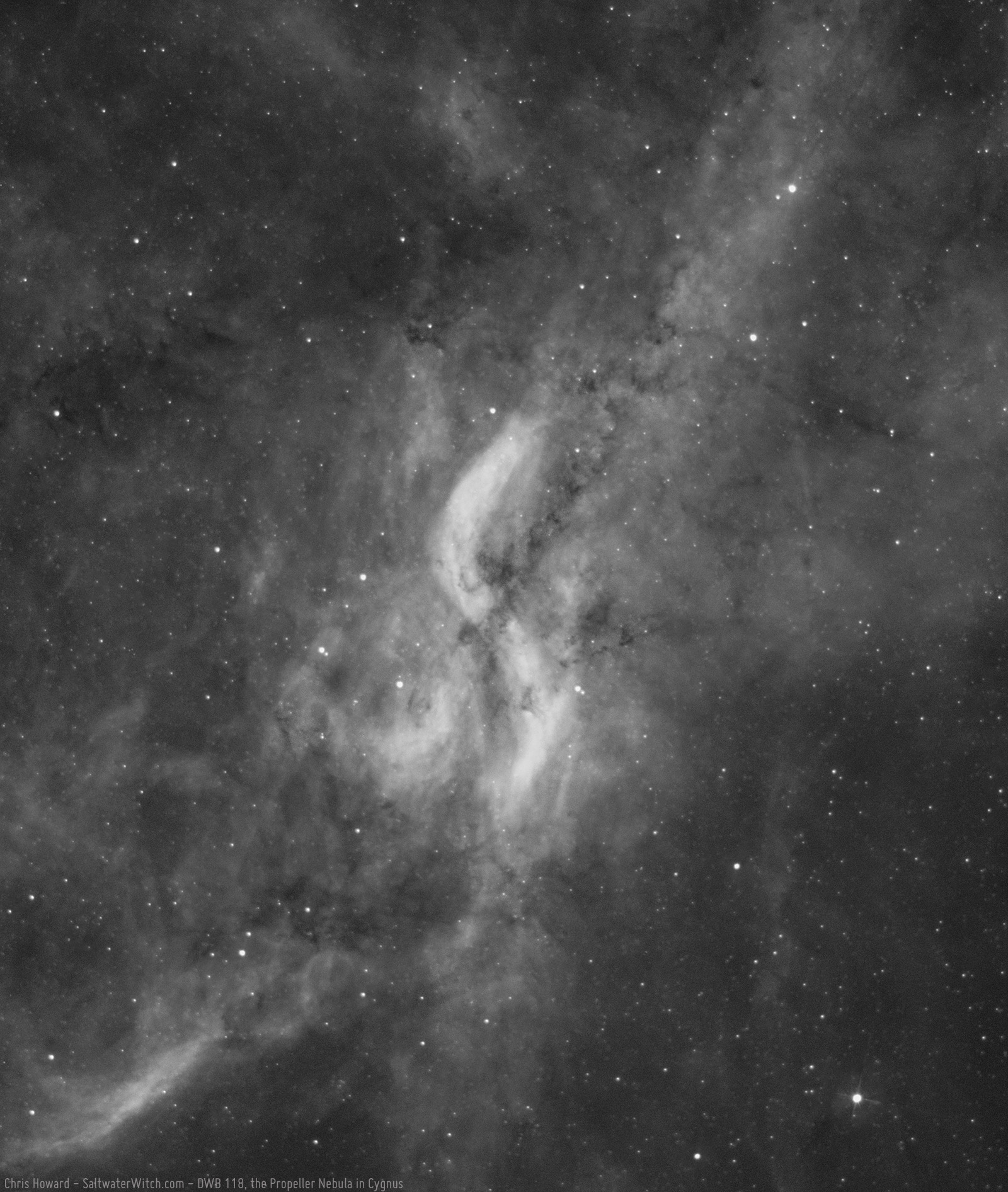 DWB 118 and surrounding area in HOO. Bi-color processing notes: you may already know that I am a fan of subtlety when it comes to color saturation, even "muted" can be used appropriately in this case. In targets like the Propeller, I think the color serves the dust. If vibrant colors are going to get in the way of showing which structures are in front or behind the dark bands of dust, then I will gladly sacrifice some color.